Hope Identified
Nov 18, 2011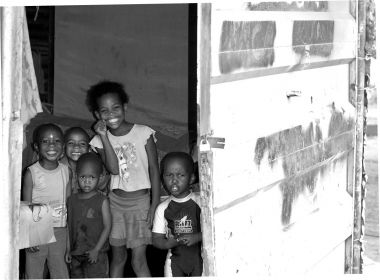 It was just another day in the life of a single mother living in poverty.
Thando Ngwenya welcomed Kgosi Neighbourhood Foundation into her home. She hoped our visit would change her life forever. It did.
Thando is a 20 year old woman, she has three children and is currently unemployed. Themba, her middle child is a student in Grade R at the Wings of Hope School. When Thando enrolled Themba into our school, he had no birth certificate and she had no Identity Document. When Thando was asked why she had not received the necessary documentation, her answer was simple... "I do not have the money for a taxi to town, I do not have the money to pay for the pictures I need for my ID."
All Thando needed was R14 for her taxi fair and R50 for the pictures and her life would change drastically.
As a result of the generosity of our donors, Kgosi Neighbourhood Foundation was able to give Thando the money she needed and a few weeks later, she had birth certificates for herself and her three children.
Thando became a parent for the first time when she was 14, at this age, she was too young to apply for an ID, as a result she did not have the necessary documentation for her to apply for a grant in order to receive income to support herself and her children.
Thando lived her entire teenage life in a children's home. When she was 13, the people in her neighbourhood were concerned about her well-being and informed child protective services that her clothes were filthy and she never had enough to eat. Shortly thereafter Thando was taken into a local children's home.
Thando was forced to leave the children's home to take care of the last person she had contact with in her family, he soon passed away. She was left on her own. Her father was nowhere to be found and she never knew her mother.
Thando has never been employed, has no work experience and very little hope of finding employment.
She now lives in a small room. Her baby sleeps on a dirty mattress on the floor. She counts her blessings because at least her room has a crumbling bathroom with running water. Many others are not so lucky.
Today, because of Kgosi Neighbourhood Foundation, Thando receives her monthly grant for her three children. Thando is working towards her matric certificate and full-time employment. She lives in hope.