Promise of Hope
Nov 15, 2011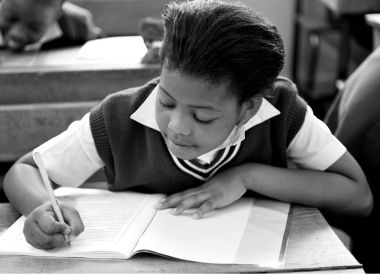 For Simphiwe and her family, the thought of receiving high quality, private school education was a dream that they never believed could come true.
Simphiwe Tshabalala first came to Kgosi Neighbourhood Foundation in 2006. She was a quiet, hard-working, intelligent girl. Her parents were unemployed and could not afford to send her to school. She was taken into Wings of Hope School as a Grade R student. Simphiwe is the oldest of three children. She has a little brother and a little sister. Her older brother (Samgelisiwe) fell ill and died when he was 5 months old.
Simphiwe's mother always hoped that she would have a future brighter than the one she and her husband envisioned for themselves. Simphiwe's parents were born, raised and educated in KwaZulu Natal. Both her mother (33) and father (35) did not complete their high school education. Her mother stopped schooling when she was in Grade 11 and her father stopped when he was in Grade 8. Her parents moved to Johannesburg with the hope of finding employment that would support their family.
After months and months of seeking employment, Simphiwe's father eventually found a job as a taxi driver, he hopes to one day own his own taxi. Her mother has previously worked as a domestic worker but is currently unemployed.
Simphiwe's family lives in a small garage in Belgravia, both her parents, herself and her siblings sleep in the same room. She has no place to do her homework each night however, she says she has learnt how to write sitting on the floor. Simphiwe walks to school each day.
Sadly, Simphiwe's story is not uncommon in the Belgravia community. However, because of the generosity of individuals like Anne Lynch, Simphiwe is one of the very few students who have been given a promise of hope. Simphiwe will have her entire school education paid for. She will be a student at Dominican Convent School until the day she graduates from matric. Simphiwe is currently in Grade 5.
Simphiwe's parents are both very grateful for the education that she is receiving. Her mother still hopes that one day she too will be able to finish school, she intends to become a computer technician.
Simphiwe is working very hard at school, she continues to give the Belgravia community and her family hope.